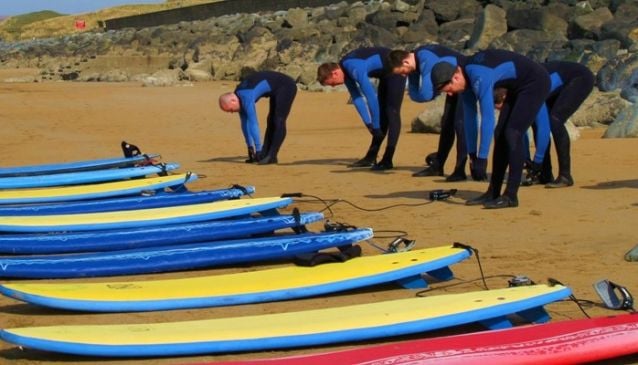 The Great Outdoors
Adventure
There are many cycle routes to follow, ranging from gentle flatland rides to steep hill climbs.
Set in one of the most beautiful parts of the world, most people who look for things to do in County Clare want to be outdoors where they can enjoy the scenery and the sea air. Luckily, there are a myriad of activities to keep you busy and to keep you outside.
The most obvious choices for things to do outdoors in County Clare are walking, surfing and golf. There are also plenty of things to do on the water. If you prefer your feet on terra firma, however, you will still have plenty of options from which to choose.
Cycling is a popular activity. There are many cycle routes to follow, ranging from gentle flatland rides to steep hill climbs. Lonely Planet's 'Best in Travel Guide 2010' ranked County Clare as one of the ten best cycling destinations in the world so you are sure to find a route to take in the other activities you may wish to pursue as well as your abilities.
Why not join with other riders and participate in the Pakie Ryan Memorial, a 30km or 50km cycle ride. The An Post Tour du Burren is another event that offers four routes suitable for all ages and abilities.
For a more challenging ride, why not join the Stephen Roche Atlantic Challenge, a 40km or 80km ride. Not only is this an opportunity to ride with a former Tour de France winner over a course called one of the best of the world, it is a good one for families as it also offers a 5km event specifically geared for younger riders. For the ultimate ride, join the Estuary 120, a 120km cycle along the Shannon Estuary.
If you prefer to get off the roads and do some mountain biking, join the Lough Derg Mountain Bike Challenge. This weekend provides a unique opportunity to ride off-road trails that are normally closed to cyclists.
You can also get off your bike and go for a run. If you are in a giving mood, why not combine a run in beautiful country with raising some money for a good cause. The Cliffs of Moher 5 Miler is a run or walk around the cliffs while the Clare 10K is a more traditional road run. Both raise money for local causes.
If cycling and running alone are not enough and you fancy throwing in a swim as well, there is the Hell of the West Triathlon. Be warned, this is tough so be sure you are fit and prepared before taking on this challenge.
If climbing or caving is more to your liking, The Burren has many opportunities for you to reach for the sky or burrow into the ground. If you are a beginner, this is an ideal place for you to learn as there are several climbs and caves well within the abilities of a novice. Be sure to get some instruction before you climb.
For many, more exciting than climbing up is abseiling down. Again, The Burren offers a multitude of opportunities for you to fly down the face of a cliff. It is vital that you are trained and have the proper kit, so be sure to get instruction if you have not attempted this activity before. The Burren Outdoor Education Centre offers courses in rock climbing, abseiling and caving and will provide a guide as you make your first attempt.
If you wish to see some caves without having to learn a new skill, both the Aillwee Cave and the Doolin Cave provide the opportunity to see that County Clare's beauty is more than just skin deep.
If all of these activities sound a bit like too much work, why not hop on the back of a horse and let your new friend show you some of the beauty of County Clare. The Clare Equestrian Centre outside of Ennis can provide a horse trek through the countryside or even a horse riding holiday.
However you choose to be active during your holiday, be sure to congratulate yourself at the end of the day with a pint at one of the traditional County Clare pubs. They are a wonderful place to relax, rest your weary body and perhaps listen to some great music as you sip your pint.