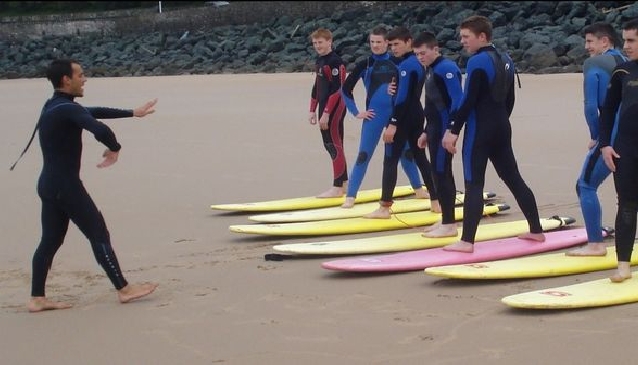 Surfing on Ireland's West Coast
Adventure
Here's some advice on where's best to catch waves, sip pints and live the high life. Surf's Up!
With its reputation for cold weather, you might not think of surfing as one of the better things to do in Ireland. For those looking to frolic in the waves and balance aboard a plank of plastic, West Clare is just the place.
The region's unique surfing conditions - its vast choice of beaches and reefs, waves for all levels of expertise, and unspoiled, uncrowded landscapes - make West Clare the perfect destination for sea-seeking tourists, and at the heart of the region is Lahinch: Ireland's surf capital.
Lahinch has the distinction of being a coastal town that catches the full-force of the Atlantic drift. Thanks to its exposed beach-break, surfers surge to the town each year looking to catch a wave... or learn how to, in any case.
This guide, like a wise old sage from West Clare, will draw you into the hidden depths of Lahinch's surfing world, offering advice on where's best to catch waves, sip pints and live the high life. Surf's Up!
Beaches and reefs to surf
Beginners
Stretching out for two miles along the town's promenade is Lahinch's Main Beach, a prime location for wave-riding novices. Here, slow-rolling A-frame waves, which like the letter, peak in the centre and break left and right, surge to the shores at an average of three-feet-high. Waves come from both the east and west and surf is good at all levels of the tide. Waves here may not be whoppers but for beginners Main Beach is a great place to start.
Many surf schools operate in Lahinch, providing equipment for surf enthusiasts and offering lessons to all levels of expertise. (Note: Lahinch's bracing temperatures mean wetsuits are as vital as surfboards.)
Parking along the prom is easy: there are plenty of spaces just up from the beach, so heading down to the shore should be a painless experience. And though the same can't be said for the cold Atlantic Ocean, you'll adjust to it once in; just flap about like a lunatic and you'll be toasty, or sectioned, in no time.
Five miles further south of Main Beach, you have Spanish Point (otherwise known as Deep Six) - where remnants of the Armada lie strewn across the sea bed. Furthermore, Ennis has a museum where you can check out all things Armada. At Spanish Point you have more slow-rolling waves, so it's a good place to learn to surf. For a change of sport, body-boarding is popular here (or boogie-boarding).
Intermediate
For more advanced surfers, keep moving left along the coast to the reefs, where the waves are bigger and the experience more precarious. Cornish reef, near Miltown Malbay, is the next stop on the surfing trail - it receives waves of up to six-feet at mid-tide and is a favourite among intermediate and experienced surfers.
Advanced
Crab Island is a good one too: eight-foot waves batter the reef here, creating barrels that wrap around the edge of the island. Be warned, though, this place is not for beginners, or intermediates, either - just for you chosen few pros. If you're after an intense surfing experience, travel down to Doolin harbour and swim 20 minutes out to the reef. Gnarley.
Experts
Lastly, for those really looking for a rush, I give you Aileen's. If you're keen to see a myth come to life and ride waves of up to 35 feet high, take yourself down to the Cliffs of Moher, and ride out on your jet ski from Doolin for some challenging surf! Experts only! Big waves like these can be precarious, plunging surfers up to 50 meters below the surface, should the wave break on top of them. Still, you have the spectacular Cliffs of Moher as a back drop so it's not the worst way to take a dip!
Days away from the water and evenings out in Lahinch
Lahinch Sea World is a must-see way to spend an afternoon at one with the ocean but in the comfort of dry clothes. The aquarium is home to turtles, dolphins and stingray, and the complex has a pool, cafe and gym - in case you're a glutton for punishment and surfing isn't exercise enough. The centre can be found opposite the prom, just up Main Beach's rocky incline, and entrance costs are reasonable.
For aprés surf, head to the pubs and restaurants along the prom, which offer post-sport pints and hearty evening meals. This being a seaside town, you'll be pleased to hear fish is the catch of the day. A whole host of fish abound the West Clare coastline, making the place ideal for a spot of angling. But if that's not your bag, cut out the middleman and head straight for the specials board: sea bass, butterfish and lobster (to name a few) are on the menu, and for the more daring among you, give edible sea urchin a whirl... in Gaelic it's Guan Mara - go on, try out a few words!
There's great Ireland nightlife too; surfers hang out at O' Looney's, drinking pints and watching dusk fall over the waves, and locals head to Flannagan's. Clare's musical tradition is world famous and you'll hear guitars and bodhrans (a drum-like Irish instrument, pronounced bow-rawn) in plenty of local haunts. Enjoy a mellow Irish evening, and once you have, walk over to the Claremont niteclub for a tall glass of reckless abandonment. It's rocking on a Friday night
When do I visit?
Newbies should come in summer once the weather's warmer and the waves aren't as volatile. For hardy enthusiasts with prior experience, wear a wetsuit and opt for colder months (September to May), when the waves are at their stormy height.
So there you have it: surfing in Lahinch in a nutshell (or on a board). Time to give it a go...