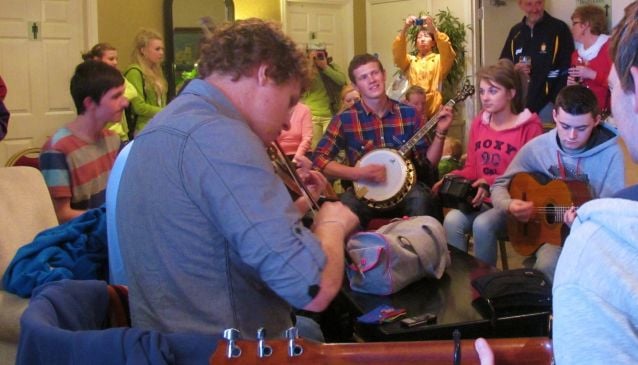 The Tune of Traditional Ireland
Arts & Culture
Nearly every town in the region has at least one pub where you can hear music
Although there are a myriad of things to do in County Clare, the top on many people's list is to hear some traditional Irish music. Luckily, you will be spoiled for choice.
For those interested in immersing completely in the world of Irish music, the Willie Clancy Summer School in Miltown Malbay is a wonderful opportunity to do just that. Taking place over the first week of July every year, the School is an eight day event covering lectures, workshops, recitals, demonstrations and classes for many of the instruments associated with Irish music.
If you prefer only a weekend of music, there are no fewer than eighteen County Clare music festivals that run throughout the year. These weekends tend to last over three or four days, encompassing dancing, singing, listening to concerts and workshops for those looking to improve their skills on a particular instrument, or maybe even just give one a go. The vast majority of the County Clare music festivals center on traditional Irish music. Some of the most popular include Fleadh Nua in Ennis, the Kilmurry McMahon Marquee Festival or the Kilrush Traditional Music and Set Dancing Festival.
If, however, your musical taste runs more towards jazz than traditional Irish music, be sure to stop by the Doonbeg International Jazz Festival at the end of May. Not only is the weekend packed with fantastic jazz bands, all the events are free so you can pop in and out as you wish.
Whatever your musical taste is, you will find it. Over the course of a year, bands as diverse as a classical duet, a Garth Brooks tribute band and a concert showcasing the best known songs of the Beatles are on offer throughout the County. If you would like some Latin with your Irish music, why not try Feile Latino in July.
The best way to listen to traditional music is to head out to one of the County Clare pubs for a pint and some music. Nearly every town in the region has at least one pub where you can hear music and the larger towns will have several. These music nights range from a formal session by a local group to an informal gathering of locals who carried their instrument down to the pub. If you play a traditional Irish instrument, by all means carry it down to the pub if you wish. You may be asked to join in. Pub sessions tend to be irregular, especially outside of July and August, so check the pub in which you are interested for details for what is on offer on any given night.
Details for music events in County Clare are remarkably easy to find. Look here for a listing of the best known festivals and concerts in the County. Your best source of information, however, will be the locals. Ask shopkeepers, waiters, your accommodation landlord where he or she would recommend. I promise you will not be led astray.
Whether you choose to listen to music for a week or simply an hour, you will have an experience that will remain with you.