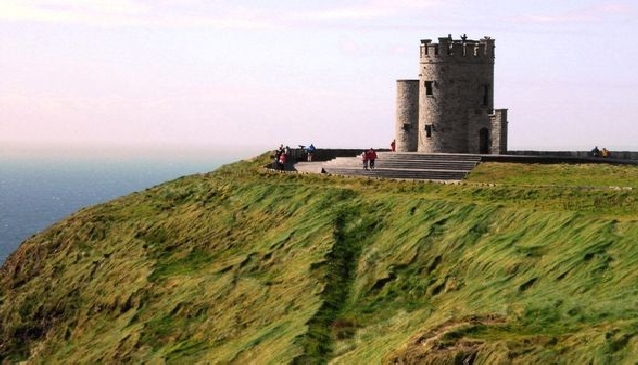 West Really is Best!
Arts & Culture
Whatever the time of year, Galway's theatres will have something for you
So you've landed at Dublin Airport with a holiday timetable to meet. See, you've already made your first mistake, because strict timetables and Ireland just do not go together. One of the best ways to give yourself the freedom of your own Ireland tour is to hire a car and explore this beautiful country. All the main hire companies are represented at Dublin Airport, and an economy two door car can be hired from under €20 a day. With your new found travel independence, leave Dublin heading west!
The road network from Dublin to Limerick is good, and a mixture of the N7 and the M7 will get you to the Republic's third largest city in no time.
Ireland culture buffs will love the 12th century King John's Castle on the banks of the Shannon, and St. Mary's Cathedral which dates from 1168, and is the oldest building in the city in daily use. Limerick has fabulous theatres, look out especially for the newest; the Millennium, a truly striking building. The city also has a vibrant nightlife and plenty of pubs to visit, including Dolan's in Dock Road with its impromptu gigs and fabulous Guinness. Flannery's on Upper Denmark Street is highly recommended too.
Limerick is well served by budget accommodation chains, as well as hotels such as the Strand and the Radisson which offer a touch of luxury.
Heading north on the N18, you arrive at Ennis in Clare. Ennis is Irish for "island", hence its unique position on the River Fergus. Look out for the Cathedral and the Abbey, both of which have left an indelible mark on the history of Ennis. For food and drink try Knox's Bar or The Town Hall, both have a good following, while Brogan's has traditional charm.
Continuing north on the M18, you reach the west coast of Ireland for the first time, and the beautiful city of Galway. Someone once said that Galway isn't about seeing - it's about listening and responding. A beautiful description of a beautiful place.
Jam packed with heritage and history, be sure to see St. Nicholas' Collegiate Church dating back to medieval times, and the more modern Cathedral with its iconic domes, pillars and arches.
Whatever the time of year, Galway's theatres will have something for you: try the Town Hall Theatre, whose programme includes plays, musicals and operas. There's a number of unique Ireland events here, including the Galway Arts Festival in July is a wonderfully boisterous mix of street art, theatre, literature and music which takes place over two summer weeks, and of course there's the Galway Races which run at the end of July and start of August.
There are plenty of pubs with traditional music to visit in this vibrant, expanding city, and you need look no further than Monroe's Tavern, at Lower Dominick Street with its live music nightly. There are numerous great places to eat along Quay Street from fine dining at Kirwan's Lane to famous fish and chips at McDonagh's. Staying at The Meyrick Hotel, House Hotel or Barnacles allows you to step straight into the heart of the city's bustle and Galway has no shortage of accommodation.
The next morning, head off toward the final destination of Westport, only 75 kms away. That's by taking the direct route on the N84/N5, but consider driving on the N59, to take advantage of the beautiful scenery including Lough Comb and the stunning majesty of the Connemara National Park, that covers nearly 3000 hectares of the very best of Irish countryside. With mountains, woodlands and grasslands, it is a must see destination and one of only six National Parks in Ireland.
The beautiful village of Leanane, described as the "Gateway to Connemara" is another 20 minutes further on, and to many, it offers the most beautiful scenery in all of Ireland. Consider staying at the Leanane Hotel overlooking Killary Harbour. But beware, you may not want to leave!
And finally another 50kms later on the N59, you arrive at Westport. A highlight of County Mayo, Westport sits on Clew Bay, an inlet of the Atlantic Ocean, and has Croagh Patrick Mountain as a dramatic backdrop.
Westport is considered one of the best tourist destinations on the western side of Ireland. The Pirate Adventure Park at Westport House is a must for families. Golf courses, angling, and blue flag beaches are nearby and Wesport plays host to a number of adventure races. There is a plethora of places to stay to suit all budgets, and nightlife running from KD's and Flannery's through to Dirkan's Bar, Matt Molloy's and Dillon's Bar.
The journey west was worth it. The trouble is, do you really want to go back?