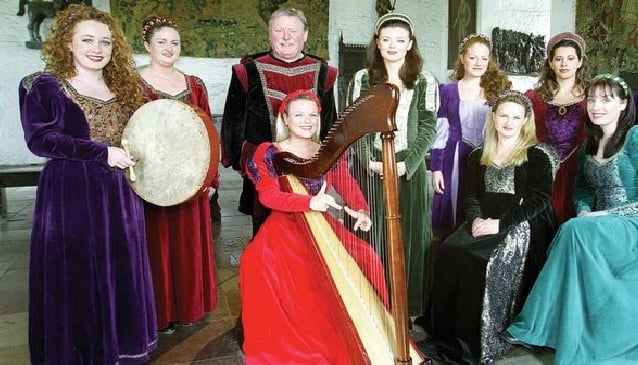 The Banquets of Bunratty Castle
Food & Drink
This visually imposing fortress holds the keys to Ireland's resplendent past.
Right in the heart of Shannon, a picturesque part of south-west Ireland, stands Bunratty Castle. Powerful in its impact, this visually imposing fortress holds the keys to Ireland's resplendent past. Built in 1425 by the Earl of Thomond, this medieval battlement boasts all the original spoils of a historical castle, from an old drawbridge to a rich collection of medieval masterpieces. However, far from letting the dust gather amongst its grand hallways and the cobwebs creep up the walls, Bunratty remains alive with a wealth of traditions, and is still one of the top Ireland attractions.
Take the surrounding countryside for example; just close to the castle grounds lies a 26 acre Folk Park. Recreating both rural and urban 19th Century life, this ancestral village resurrects history with costumed characters, local arts and crafts, and tea-rooms offering tastes from Ireland's past (we recommend the homemade apple pie).
However, when it comes to historical reenactment, it has to be said, that no one does it better than County Clare's Bunratty Castle. Overseen by Shannon Heritage, Bunratty Castle has become a nightly host to a plethora of banquet evenings, travelling back through time to the medieval era. Full of indulgent revelry and delightful merriment these nights have become particularly popular, with people from all around the world coming to experience a fine medieval feast.
Following a warm welcome by a kilted bagpiper, the banquet order begins with a festive mead reception in the grand hall. Here, guests can meet and mingle in a relaxed medieval ambiance alongside the accompanying music of a violin and harpist. Warm honeyed mead, a traditional medieval wine, is served in guests' goblets as they stroll around the room's medieval tapestries and furniture.
After a historical welcome by the 'butler of Bunratty' and a short madrigal serenade, guests are then invited down to the banqueting hall. This is where all the true debauchery begins; a four course festive feast of enormous proportions! Set upon long oak candlelit tables, spicy parsnip soup, succulent glazed ribs, tender mead chicken and a creamy fruit mousse are served in immediate succession. Complimentary ceramic jugs are placed on the tables, overflowing with water and wine. In a time before the existence of manners, cutlery is nowhere in sight and guests enjoy their supper spread in the true medieval way, with only their hands (fear not, finger bowls are provided!) And between courses, the butler and medieval maids entertain with soulful songs, a stage shaming dungeon incident, and lively presentations to the appointed 'Earl and Lady Thomand', (two unsuspecting guests!)
After all this gluttony, the evening ends on a high with a wonderful selection of further Irish songs and medieval instrumental music. Sing along, sway, or simply slump back in your stool and indulge in the glorious satisfaction.
Bunratty banquets are held twice nightly, at 5.30 pm (finishing at 7.45 pm) and 8.45 pm (finishing at 11 pm).
For any more information about medieval castle banquets and traditional Irish nights, visit http://www.shannonheritage.com/